Ried-On automatic sweeper Model MACH 2
MACH 2
WALK-BEHIND SIZE,RIDE-ON PERFORMANCE
Combining the maneuverability of a walk-behind sweeper with the productivity of a ride-on sweeper. The MACH 2 is simplicity at its best, a reliable, economic sweeper that delivers uncompromised cleaning.
---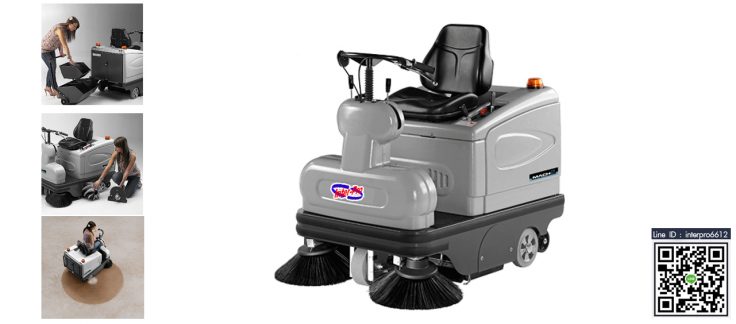 The turning point in sweeping, the MACH 2 is an innovative and economic solution to transform the way you clean.
The MACH 2 is the first of its kind, containing all the essential features of a ride-on sweeper without being overcomplicated. High productivity with low running costs, it's the economic solution to your cleaning needs.
Its compact design enables the MACH 2 to be highly maneuverable, with a turning radius of just 95 cm / 37 in it's perfect for narrow aisles and confined spaces inaccessible by a larger machine. The MACH 2 is battery powered and emission free, well adapted to indoor environments, hard surfaces and carpets.
Complete control is at your fingertips, the MACH 2 is an operator's best friend. The handle bar design enables light steering and the acceleration is controlled by a leaver on the handle bars.  The intuitive control panel is fitted with key features and maintenance is simple with a fully opening rear cover providing access to internal parts.
The MACH 2 generates incredible cleaning power, thanks to our intelligent vacuum filtration system, which delivers safe, dust free cleaning and optimum productivity. The filter is easily cleaned via a mechanical shaking system, ensuring a long life and low maintenance.
Key Information
Power source: 24 V battery
Usage: Ideal for small to medium areas
Ideal for janitorial and industrial environments
Productivity: Sweep up to 5.800 m² / 62,431 ft² per hour
Hopper capacity: 62 litres / 16 gallons
Automated ride-on sweeper used with battery.
suitable for the cleaning of indoor hard surfaces.
Traction drive system: squeeze the start lever the machine works automatically.
Simple control, one button controls both forward and reverse speed.
Polyester bag filter efficient for the retaining of fine dust and long lasting99.99 % filtering of fine dust.
Sweeping works with fallen leaves and soft drink cansLiter capacity of 63 Lt.
Euipeed with wheels convient for transport hopper to dunp site.
The body structure is made with anti-shock material, durable and stratch free.
The seat can be adjust and the machine stops oif there is no driver, reverse light equipped.
Battery 12 Volt 120Ah 2 sets with automated charger warranty 6 months.
---
A compact design means high maneuverability, with a turning radius of just 95 cm the MACH 2 is perfect for narrow aisles and confined spaces inaccessible by a larger machine.

SHOCK RESISTANT SIDE BRUSHES

Activated from the control panel, the side brushes pass along edges and under low profile objects, effectively sweeping hard to reach spots. Designed to be highly resistant to wear and tear.

INGENIOUS HOPPER EMPTYING

The 63-litre hopper reduces downtime and increases productivity. Fitted with a convenient handle, wheels and removable baskets the hopper is easy to transport and empty.

The floating main brush automatically adjusts to uneven surfaces. The cover has an innovative locking system, providing quick access to the brush, which can be easily changed without tools.

Innovative polyester house filter, captures 99.9% of dust creating a clean and safe environment. A mechanical shaker enables effective cleaning, reducing maintenance and increasing filter life span.

Controls are easy to identify on a simple dashboard, providing full control of sweeping power - quick access to the key switch, brush control and vacuum filter isolation.

Improved resistance against impact and ageing. Impressive reduction in costs associated with maintenance. Additional safety for operators. Ideal machine for rental.
Effective on multiple surfaces:  

Indoor and outdoor, hard and soft (including low profile carpet).

Ideal for small to medium spaces:

Industrial sites, building sites, schools, offices, stations, hospitals, public spaces, airports, shopping malls, retail stores, warehouses, car parks, residential spaces and yards.

Safety features:

Key operated ignition to simply turn the machine on and off
Forward traction leaver
Filtration system isolation leaver
Side brush control leaver
Handbrake
---
| | |
| --- | --- |
| TECHNICAL SPECIFICATIONS | MACH2 |
| | |
| CLEANING PATH with side brush | 1.055 mm / 42 in |
| CLEANING PATH with central brush | 650 mm / 26 in |
| HOURLY CLEANING CAPACITY | 5.800 m² / 62,431 ft² per hour |
| FORWARD SPEED | 5,5 km/h 3.5 mph |
| DIRT CONTAINER CAPACITY | 62 L / 16 gal |
| FILTER TYPE | Multipocket Filter |
| DRIVE MOTOR | electronic assisted |
| MAIN MOTOR | 1 x 24 V - 0.8 hp |
| STANDARD BATTERIES | 2 x 12 V |
| SIZE inclusive of  brush | 1.055 x 1.380 x 1.215 mm / 41.5 x 54.5 x 48 in |
---
| | |
| --- | --- |
| | |
สำหรับข้อมูลเพิ่มเติมกรุณาติดต่อ 02-976-4404-8 และ sales@prolinesystem.com
หรือเยี่ยมชมผลิตภัณฑ์อื่น ๆ ของเราได้ที่  www.prolinesystem.net