Ried-On automatic sweeper Model MACH 5
MACH 5 (EB,DK)
A NEW DIMENSION IN SWEEPING POWER
A robust hydraulic sweeper that is tailored to the operator. The MACH 5's compact design, high visibility and light-touch handling enable confident maneuvering in confined spaces, whilst vacuum filtration technology delivers the optimum clean.
---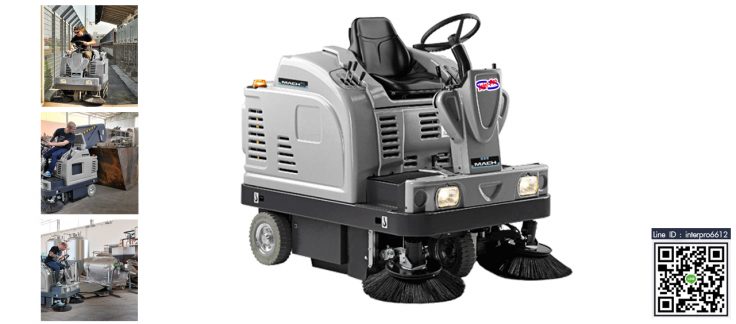 ---
Top performing hydraulic sweeper, designed for maneuverability.
Experience incredible cleaning power with the MACH 5. The 140 cm / 55 in sweeping path and 9 km/h / 5.6 mph top speed deliver a cleaning capacity of up to 12.600 m² / 135,600 ft² per hour. The MACH 5 is versatile on all terrains; with powerful traction control it can easily climb 20% gradients and impressive grip ensures responsive handling.
One of the most remarkable design features of the MACH 5 is that it's compact without compromising on performance, providing impressive maneuverability during operation and maximum productivity. The 160 cm / 63 in turning radius enables the operator to confidently maneuver the sweeper in confined spaces such as narrow aisles or corridors. While the powerful top speed, vacuum filtration system and MultiBristle® brush ensure rapid cleaning and complete debris pickup in a single pass. The MACH 5 delivers incredible results, fast.
Available in 2 versions:
EB Battery version perfect for both indoor and outdoor environments, with no emissions and silent operation. It combines electronic traction with a hydraulic multilevel dump system, creating a sophisticated machine that delivers on power and performance.
Kubota 2 cylinder engine, continuous running time without the need to charge. Fully hydraulic system including front-wheel drive, increases overall power and maneuverability. Suitable for outdoor environments, versatile on all terrains.
Key Information
Power source: 24 V battery or Kubota diesel engine
Usage: Ideal for medium to large areas
Ideal for janitorial and industrial environments
Productivity: Sweep up to 12.600 m² / 135,600 ft² per hour
Hopper capacity: 150 kg / 331 lbs
Automated Sweeper Large size driven by KUBOTA DIESEL Engine.
Large sweeping area with Hydrauliac dumping system.Traction drive system allows the machine to start automatically.
Simple control, one button controls both forward and reverse speed.
Polyester filter with mechanical filter shaker. 99.95 % filtering of fine dust which is environment friendly.
Sweeping works with fallen leaves and soft drink cans.
Liter capacity 150 Litres with wheels controlled by hydraulic system.
The body structure is made with anti-shock material, durable and stratch free.
The seat can be adjust and the machine stops oif there is no driver, reverse light equippe.
---
| | |
| --- | --- |
| | Top quality, multi-level hydraulic emptying system, raises the 150-litre dirt container to 136 cm / 39 in for easy emptying that reduces downtime. |
| | Rapid tool free replacement of main brush and full access to internal parts via service panels, ensures quick and straight-forward maintenance. |
| | Large polyester house filter retains 99.9% of particles, delivering safe, dust-free cleaning. The filter can be completely cleaned via an automatic shaking mechanism and unlike a panel filter it doesn't clog. |
| | The MACH 5 delivers a large cleaning capacity, up to 12,600 m²/h. The 1.21 hp traction motor and 2.7 hp main motor are the most powerful on the market, enabling this heavy-duty machine to be extremely productive in any environment. |
| | Full control of sweeping power via a quick access dashboard, ergonomically designed for simple operation. Forward and rear traction control via foot pedals is simple and responsive. |
| | The MultiBristle® main brush is suspended on floating mountains to accommodate uneven surfaces. The brush pressure is adjustable, ensuring consistent sweeping performance no matter what the environment. |
| | Activated from the control panel, the side brushes pass along edges and under low profile objects, effectively sweeping the hardest to reach spots. Designed to be highly resistant to wear and tear. |
Effective on multiple surfaces: 

Indoor and outdoor, hard and soft (including low profile carpet).

Ideal for medium to large spaces:

Industrial sites, building sites, schools, offices, stations, hospitals, public spaces, airports, shopping malls, retail stores, warehouses, car parks, residential spaces and yards.

Safety features:

Safety sensor in operator seat, reverse alarm, safety lights, hand break, filter isolation.

Optional features:

Overhead guard, PVC windscreen, left side brush kit.
---
| | | |
| --- | --- | --- |
| TECHNICAL SPECIFICATIONS | MACH 5 EB | MACH 5 DK |
| CLEANING PATH with side brush | 1.400 mm / 55 in | 1.400 mm / 55 in |
| CLEANING PATH with central brush | 800 mm / 31.5 in | 800 mm / 31.5 in |
| HOURLY CLEANING CAPACITY | 11.200 m² / 120,556 ft² | 12.600 m² / 135,626 ft² |
| | per hour | per hour |
| FORWARD SPEED | 8,0 km/h / 5.5 mph | 9,0 km/h / 5.6 mph |
| DIRT CONTAINER CAPACITY | 130 L / 35 gal | 130 L / 35 gal |
| FILTER TYPE | Multipocket Filter | Multipocket Filter |
| DRIVE MOTOR | electronic assisted | hydraulic |
| MAIN MOTOR | 1 x 24 V - 2.7 hp | Kubota 14 hp |
| STANDARD BATTERIES | 1 x 24 V | - |
| WEIGHT | 920 kg / 2,023 lbs | 785 kg / 1,731 lbs |
| | with battery | |
| SIZE inclusive of brusher | 1,695 x 1,400 x 1,480 mm | 1,695 x 1,400 x 1,480 mm |
---
| | |
| --- | --- |
| | |
For more information, please call 02-976-4404-8 and sales@prolinesystem.com
Or visit our other products at www.prolinesystem.net