Walk behind automatic sweeper Model MACH 1
MACH 1 (EB,S)
INDUSTRIAL FILTRATION A WALK-BEHND
---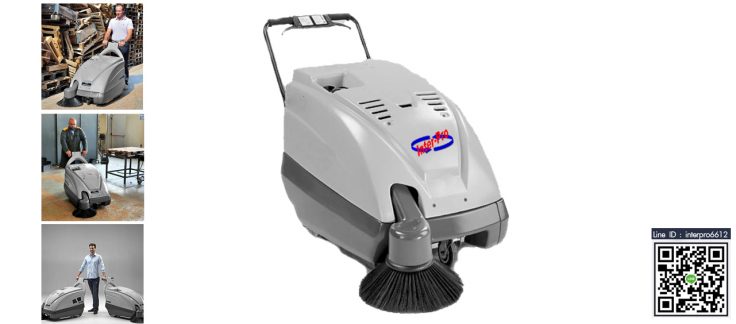 The pioneer of walk-behind vacuum sweepers, the MACH 1's unique filtration system delivers the ultimate clean. 
Available in 2 models:
Battery version perfect for both indoor and outdoor environments, with no emissions and silent operation.
Honda engine suitable for outdoor environments, maximizing running time.
The MACH 1 is an extremely durable sweeper, constructed in steel with an indestructible ABS protective coating and the finish will always look new, thanks to a tough paint that never fades. The compact design and large mark-free wheels enable impressible maneuverability, easy handling and flexibility to work effectively in both indoor and outdoor environments.
The MACH 1's intelligent vacuum filtration system delivers safe, dust free cleaning and optimum productivity. A fully adjustable chevron shaped brush grabs dirt and drives it into the center of the brush, eliminating left-behind side debris. The brush uses the clever over-throw principle, ensuring complete collection of debris and maximum use of the hopper's 40-litre / 11 gallon capacity.
Its ingenious design is tailored to the operator making it easy to use and resilient, an adjustable handle and intuitive controls maximize comfort and control during use. The MACH 1 is equipped with simple but intelligent features that deliver incredible cleaning power without the hassle of maintenance.
Key Information
Power source: Battery or Honda engine
Usage: Ideal for small to medium areas
Ideal for janitorial and industrial environments
Productivity: Sweep up to 3.500 m² / 37,700 ft² an hour
Hopper capacity: 40 litres / 11 gallons
Available either driven by petrol engine or battery drive.
Can be used for indoor and outdoor environment.
Traction drive system for mean of a comfortable level positioned.
Dust is filtered through polyester bag, allows for excellent filtering.
The electric version, quiet and pollution free.
Sweeper system can sweep and clean from fine dust to cans litters.
Litter Capacity up to 40 litres with 3 wheels easy for movement.
The body is made-up with a special anti-shock material to protect it from unwanted damage.
Fuly equipped and ready for usage.
Mach1 S-Engine Honda Model GC135, 4 HP use of benzene.
---
Innovative polyester house filter, captures 99.9% of dust creating a clean and safe environment. A mechanical shaker enables easy cleaning, reducing maintenance and increasing filter life span.

Rely on high quality manufacturing; constructed in steel with an indestructible ABS anti-shock coating the MACH 1 is protected even in the toughest working environments.

INGENIOUS HOPPER EMPTYING

The 40-litre hopper reduces downtime, and increases productivity. Fitted with a convenient handle, wheels and 2 removable baskets the container is very easy to transport and empty.

The ergonomic design ensures maximum user comfort and simple operation. Controls are easy to identify on a simple dashboard, with quick access to the key switch, brush control and vacuum filter isolation.

Forward traction can be activated via a lever positioned on the operator's handle. It is incredibly responsive enabling high maneuverability and complete control during machine operation.

The machine is equipped with front flap control, directly accessed from the dashboard, it allows effortless pick up of larger debris.

The MACH 1 is designed to stand securely on its rear end, providing full access to the side and main brush for quick maintenance and replacement.

The MACH 1's strong steel handle is adjustable to the operator's height and ergonomically designed, providing full comfort to the user during sweeping.
Effective on multiple surfaces: 

Indoor and outdoor, hard and soft (including low profile carpet).

Ideal for small to medium spaces:

Industrial sites, building sites, schools, offices, stations, hospitals, public spaces, airports, shopping malls, retail stores, warehouses, car parks, residential spaces and yards.

Safety features:

Key operated ignition to simply turn the machine on and off
Forward traction leaver
Filtration system isolation leaver
Side brush control leaver
Handbrake
| | | |
| --- | --- | --- |
| TECHNICAL SPECIFICATIONS | MACH 1EB | MACH 1S |
| CLEANING PATH with side brush | 780 mm / 31 in | 780 mm / 31 in |
| CLEANING PATH with central brush | 550 mm / 22 in | 550 mm / 22 in |
| HOURLY CLEANING CAPACITY | 3,510 m² / 37,800 ft² | 3,510 m² / 37,800 ft² |
| | per hour | per hour |
| FORWARD SPEED | 4,5 km/h / 3 mph | 4,5 km/h / 3 mph |
| DIRT CONTAINER CAPACITY | 40 L / 11 gal | 40 L / 11 gal |
| FILTER TYPE | Multipocket Filter | Multipocket Filter |
| DRIVE MOTOR | 1 x 12 V - 600 W / 0.8 hp | Honda 4,6 hp |
| STANDARD BATTERIES | 12 V | - |
| WEIGHT | 98 kg / 216 lbs | 127 kg / 280 lbs |
| SIZE inclusive of brusher | 61 x 33 x 39 in | 61 x 33 x 39 in |
---
| | |
| --- | --- |
| | |
For more information, please call 02-976-4404-8 and sales@prolinesystem.com
Or visit our other products at www.prolinesystem.net