Walk behind automatic sweeper Model MACH MEP
MACH MEP
MANUAL SWEEPING WITH DUST CONTROL
     Feel the power of complete dust control with MACH's vacuum filtration technology. The MACH MEP is the only manual, cordless, battery free sweeper with a built in filtration system, delivering incredible cleaning performance and unlimited running time.
---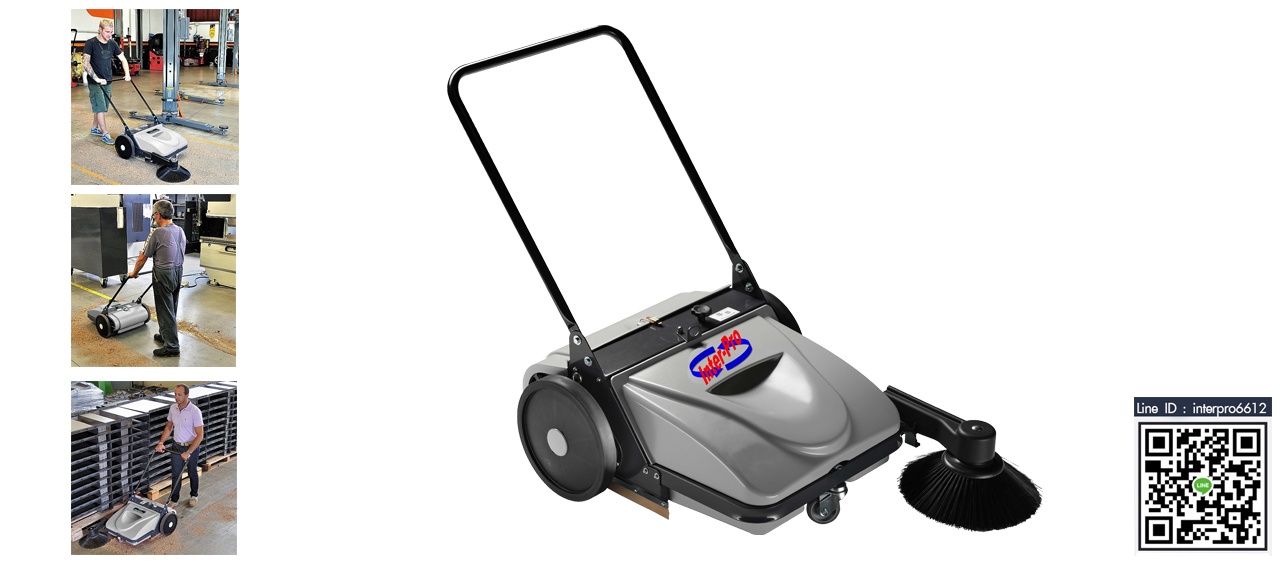 Powerful innovation, the only manual, cordless, battery free sweeper with vacuum filtration technology.
The MACH MEPs innovative design uses our patented vacuum filtration system. This technology enables complete dust control during sweeping, ensuring your clean is effective and safe. The MACH MEP provides more cleaning power than an auto-sweeper, without the need for batteries, motors or cords, giving you optimum sweeping performance with no hassle. It is the smart solution to productive and ecological cleaning.
The MACH MEP is a manual walk behind sweeper ideal for indoor and outdoor cleaning on hard and soft surfaces. It is agile in tight spaces and has an adjustable side brush that effectively cleans hard to reach places. You can depend on quality manufacturing that uses heavy-duty materials making the MACH MEP durable and resistant to impact.
When the machine is pushed, either forward or reverse, the wheels engage a gear box which activates the main brush and vacuum filtration system. Manual operation means that this sweeper is silent during use and therefore is perfect for noise sensitive environments.
Experience powerful at any time cleaning at your fingertips.
Key Information
Power source: Manual
Usage: Ideal for small to medium areas
Ideal for car parks, yards, residential spaces, community spaces and warehouses
Productivity: Sweep up to 2,100 m² / 22,600 ft² an hour
Hopper capacity: 26 litres / 6 gallons
POLYESTER CARTRIDGE DUST FILTER

MACH MEP is equipped with a cartridge filter, which is made of polyester, to retain small particles of dust. The filter is washable and can be easily removed for maintenance purposes or eventual replacement.

Rely on high quality manufacturing; the MACH MEP is built to last using heavy-duty materials with a coated steel chassis and durable ABS thermoplastic hoppers.

Compact design for agility in tight spaces. Large rear wheels enable easy handling and a front pivot wheel ensures maximum maneuverability and effortless steering.

The large capacity hoppers are light and have an ergonomic handle molded into the design for easy emptying.

SWEEP FORWARDS AND BACKWARDS!

The gearbox system creates high-speed brush rotation in both forward and reverse directions, capturing dust and debris in a single pass. Maximum power, minimum effort.

HIGH PERFORMANCE SIDE BRUSH

Impact resistant side brush enables easy cleaning of hard to reach places. Pass along walls, pavements and under shelving, effectively capturing dust and debris.

The 10-section Multi-Bristle® brush effectively picks up dust and debris. Brush pressure is fully adjustable to the floor surface and type of debris, to achieve maximum cleaning performance.

The MACH MEP's strong steel handle is simple to adjust and ergonomically designed for maximum user comfort. It cleverly folds away making the sweeper simple to store.

The MACH MEP has won 3 Innovation Awards:
- Verona, 2005 "Pulire"
- Birmingham, 2013 Cleaning Show
- Australia, 2013 INCLEAN
Effective on multiple surfaces:

Indoor and outdoor, hard and soft (including low profile carpet).

Ideal for medium to large spaces:

Industrial sites, building sites, schools, offices, stations, hospitals, public spaces, airports, shopping malls, retail stores, warehouses, car parks, residential spaces and yards.

Safety features:

Safety sensor in operator seat, reverse alarm, safety lights, hand break, filter isolation.

Optional features:

Overhead guard, PVC cabin kit, polycarbonate windscreen and wiper, street homologation kit, flashing light, left side brush kit, dust guard for side brushes, reverse warning light, complete light set, side mirror, spring seat.
---
| | |
| --- | --- |
| TECHNICAL SPECIFICATIONS | MACH MEP |
| | |
| CLEANING PATH with side brush | 730 mm / 29 in |
| CLEANING PATH with central brush | 500 mm / 19.7 in |
| HOURLY CLEANING CAPACITY | 2.190 m² / 23,573 ft² per hour |
| RECOMMENDED FORWARD SPEED | 3 km/h / 1.9 mph |
| front DIRT CONTAINER CAPACITY | 26 L / 7 gal |
| rear DIRT CONTAINER CAPACITY | 4 L / 1 gal |
| PATENTED VACUUM SYSTEM | standard features |
| FILTER TYPE | washable polyester filter |
| WEIGHT | 25,5 kg / 56.2 lbs |
| SIZE inclusive of side brush | 1.296 x 824 x 937 mm / 51 x 32 x 37 in |
---
| | |
| --- | --- |
| | |
For more information, please call 02-976-4404-8 and sales@prolinesystem.com
Or visit our other products at www.prolinesystem.net